About Telangana University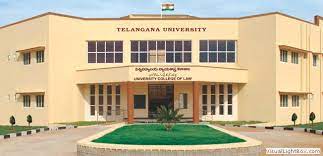 Telangana University was established through Act Number 28 of the State Government in the year 2006. The University was established with an objective to make the higher education accessible to the educationally backward District of Nizamabad in Telangana. Telangana University has been the prestigious NAAC "B" Grade with the good score of 2.61 in the first cycle assessment carried out in December 2015. The 8-member NAAC team has visited the University on December 21, 22 and 23 in the year 2015 and has awarded the "B" grade. The University was initially launched with Six courses and it was opened in the PG building of the Govt. Giriraj College at Dubba area in Nizamabad town. The University was shifted on January 30th 2009 to the sprawling 577 acre campus at Dichpally abutting the National Highway 44 on the Hyderabad - Nagpur highway.
The University is the first among he newly formed universities in the state to get the University Grant Commission (UGC) 12B recognition. Thus, making itself eligible for the UGC grants. At least half a dozen teaching staff members have got the UGC sponsored Major and Minor Projects. Many Research scholars has also got the Rajiv Gandhi National Fellow Ships offered by the UGC.